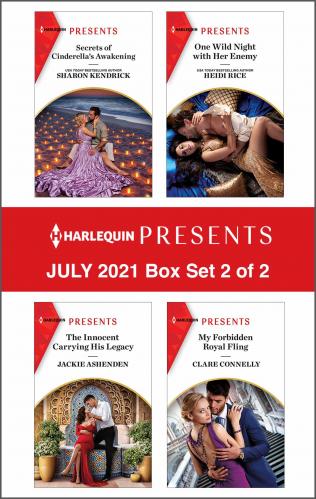 General:
Name: Harlequin Presents July 2021 Box Set 2 By Sharon Kendrick
Format: epub
Size: 2.12 MB
Book:
Title: Harlequin Presents–July 2021–Box Set 2 of 2
Author: Sharon Kendrick
Language: English
Year: 2021
Subjects: N/A
Publisher: Harlequin
ISBN: ‎ B08MXGR1WN
Total pages: N/A
Description:
Harlequin Presents brings you four full-length stories in one collection! Experience the glamorous lives of royals and billionaires, where passion knows no bounds. Be swept into a world of luxury, wealth and exotic locations.
This box set includes:
SECRETS OF CINDERELLA'S AWAKENING
by USA TODAY bestselling author Sharon Kendrick
Cynical Leonidas knows he should keep his distance from innocent Marnie, yet discovering his Cinderella needs urgent financial help prompts an alternative solution. One with mutual benefits, including exploring her unleashed passion even as it threatens to incinerate his barriers…
THE INNOCENT CARRYING HIS LEGACY
by Jackie Ashenden
Children? Not for illegitimate Sheikh Nazir Al Rasul, whose desert fortress is less intimidating than his barricaded heart. Until surrogate Ivy appears on his royal doorstep…and he finds out that she's pregnant with his heir!
ONE WILD…